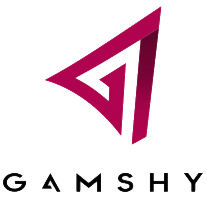 Number of Games: 9+
Online Casinos: 10+
Desktop Platform: Windows, Mac
Mobile Platform: iOS/Android
Overall Rating: 9/10
Founded in only 2016, Gamshy are one of the newest software providers that SuperLenny has reviewed. Since their establishment, they have focused on releasing, niche, high-quality games which have delighted players and csainos globally with their advanced integration platform. Based in Rome, Italy, they are ready to show the world of online casinos what they can do.
Their in-house designers have been busy, having already designed and released many online slots games already.  They have also begun to innovate existing mechanics to make them feel fresh and new for players. With an ambitious plan to release even more titles in the coming years, our experts can't wait to see what Gamshy pulls out of the hat in the near future.
Why Casinos Choose Gamshy
To ensure that the smoothest and most satisfying experience is had by everyone associated with Gamshy, they have built and incredibly sustainable platform using state of the art technology, allowing scaleable outcomes and complete adaptability – This is an incredibly attractive feature for online casinos and their players
HTML 5 technology

Great Customer Support

Innovative Releases

Fully Integrated platform

MIxture of 2d, 3d and revolutionary game play

In-house game design and homemade RGS
A relatively small selection of games however, upon playing a handful of them, we could really feel the heart and soul that went into each one. Gamshy's inhouse design team really have done a fantastic job with their to date releases.  Each game has been designed with impeccable graphics and a theme that runs parallel with the game mood.

⭐ Inferno
A video slot where you're guided by an evil spirit as you're encouraged to explore the deep underworld and rescue pure souls as you float up to the gates of eden. The incredible thing about this slot is that each animation has been completely hand drawn. With a 2D design the rules are fairly easy to get the hang of. The volatility is high, and with an RTP of 96.33% you'#ll find 5 reels, 3 rows and your usual Wilds and Scatter Symbols.
⭐ Tubolarium
Next up, on their game page we were drawn to Tubolarium. Based in a laboratory, you'll find 5 reels and 4 rows. The game's design features an unusual setting, where you find yourself in a laboratory with a crazy scientist. He's carrying out dodgy experiments and you'll be guided through the game by a liquid path. A winning path will see the fluid start from the tanks and make its way through to the external numbers. Keep an eye out for the radioactive tablet. This switches gameplay into free spins. We had a bit too much fun testing this one out – Beware of the crazy scientist; he's off his head. Unlike Inferno, this game is Low Volatility and has an RTP percentage of 96.59.
⭐ Tooncops
Lastly we tried out Tooncops, where a Jewelry store is threatened by two pesky robbers. Fear not, because in this 5 reel, 3 row slot game you play a heroic copper, who is kitted up to save the day.
The idea of this game is to keep your treasure safe. The young copper (you) grapples with the two criminals as you progress through the game. It's based in the 1940 and is another one to commend Gamshys in-house design team for, because they have captured the era majestically. Check this game out if you favour Low Volatility games! 

Do Gamshy produce software with the player in mind?
For a small and relatively new company, Gamshy delivers high-quality and games designed around innovation. All of their games come with full High Definition graphics, cross platform compatibility and immersive soundtracks. With Gamshy's captivating content it's clear that this software provider pays particular attention to demographic needs, ensuring all markets have a great experience.
Gamshy are responsible for all of the design and develop all their games with their customers' needs in mind. They appreciate player feedback probably more than any other game developer. Always innovative, Play'n GO was one of the first games developers to make their games fully available on mobile devices, and this is probably why for a small company, they are already a staple on a bundle of established online casinos.
Gamshy has all the ideas and reputation they need to grow into a mainstream slots developer. Their carefully created games are completely bespoke, while offering some of the best (and funniest) gameplay we have seen. We are seriously looking forward to this slot provider growing and can't wait to see how their game mechanics evolve over the coming years, especially if they plan to expand outside of slots online
If attractive game design, awesome graphics and mixtures of RTP and volatility are what you're looking for, you are going to love what Gamshy has to offer. While some of the bigger slot providers might be more forthcoming with the bonuses and promotions, we can almost guarantee you'll become a fan of Gamshy. All of their games are available to test with virtual currency, so see for yourself before wagering.